If you're a leader, one of the questions you should be asking yourself is whether you're giving your team more instructions or more questions. It turns out that the distinction is crucial on a number of levels. Even a full book on the subject, "Good Leaders Ask Great Questions," was written by John Maxwell. Today, in this blog, let's talk about the topic "Good Leadership Is About Asking Good Questions".
Good company leaders must pose challenging questions in the face of severe hardship. This post is unafraid to call out poor leadership practices and direct executives toward astute inquiries that will advance their organizations.
Leaders in marketing may take this advice to heart and begin posing significant questions of their own about how their tactics are performing in the context of the new normal.
Google undertook a study named Project Oxygen to find out what characteristics their best managers shared. More than 80,000 managers were polled. In this analysis, they were able to pinpoint 10 characteristics shared by their most successful managers.
What is the top quality? Asking questions and listening are two qualities that Google described as successful coaching.
Asking Good Questions Is A Leader's Superpower
Leaders today need to revive an ability that has been neglected: questioning. In my many years as a senior executive and consultant, I frequently seen leaders who believed that others looked to them for guidance. While generally accurate, it is ironic since it implies that you are dumb, a member of the Peter Principle club of ineptitude, and/or have false confidence. It also says that you have no concept how quickly the world is changing.
Instead, good leaders must elicit support to advance by posing thought-provoking and motivating questions that communicate a shared interest in pursuing the truth. This is generally not the case since many leaders are wary of this strategy because it might give the impression that they lack knowledge or awareness of what is happening.
Instead, it has been discovered via study that demonstrating your curiosity by posing questions and sharing your views sends a clear message to others that you are open to learning and trustworthy. People are urged to interact in order to foster progress, and perhaps they will reciprocate in kind.
Fundamentally, this method brings individuals together to quickly ignite original thought and effectively solve issues (assuming comparable intellect, competence, and interest).
Why Is Asking Questions Important?
As we are discussing about Good Leadership Is About Asking Good Questions, here is why it is important: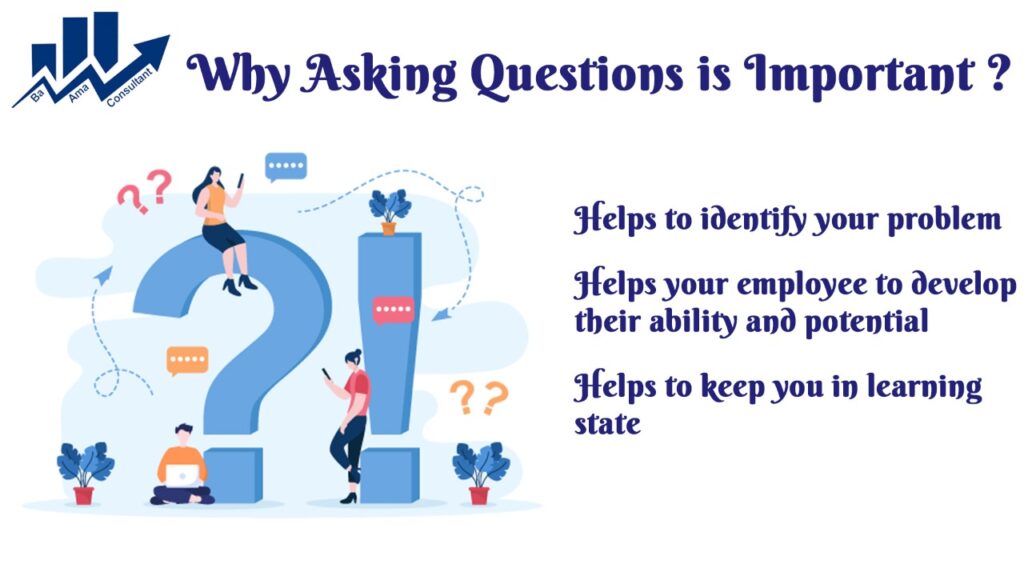 It enables you to identify your problems and come up with better ideas to address them. We're all expending too much time and effort on using the first solution we come up with to solve a problem. That is both constrictive and ineffective.
It's how you help people you lead to develop their ability and potential. An insightful inquiry can spark an "aha" experience, which can subsequently spur innovation and development.
It keeps you in a learning state as opposed to a critical mentality. When you pose a question, you are not immediately jumping in to supply the response, offer a solution, or accept the challenge. As a leader or manager, it's your duty to your team and the business to keep you focused on the wider picture, thus it's an excellent self-management technique.
Best Questions to Ask About Leadership
What sort of inquiries should leaders make, then? The questions given by management guru Peter Drucker are an excellent place to start.
The Top 5 Questions You Should Always Ask Your Organization:
What is the goal?
Who are our clients?
What is important to our customer?
What are the outcomes?
What is the strategy?
You may use these queries to identify the main value-creating factors in your firm.
In order to comprehend difficult circumstances, untapped potential, and unsaid concerns better, executives might also ask the following questions to their subordinates and teams across the organization:
What should I know about this problem or opportunity?
What can we do to maximize this chance?
What do you believe we ought to do?
What may we be dismissing a bit too quickly?
Is there truly an either/or decision here? What are we neglecting?
What are the Queries that Mentors and Leaders may ask to themselves or others?
Additionally, leaders should set aside time each week to reflect, both on themselves to develop their own self-awareness and on their direct reports to foster engagement, comprehension, and alignment of values. The most effective inquiries for this kind are straightforward and strong. A key component of coaching others is asking insightful questions.
Here are some effective inquiries that mentors and leaders may make of themselves and others:
What are the top priorities that matter most to you in terms of your community, organization, and family?
In relation to these goals, are you spending enough time with the proper people?
How are you addressing each priority?
What is your motivation?
What do you think about it?
What do you want to accomplish but are unable to do at the moment?
What would you advise yourself to do if you lived to be 85 years old?
Effective leaders must constantly reflect, listen, and learn. These things, however, can't be done without the appropriate questions being asked.
Asking Is More Effective Than Telling
It is crucial for leaders to ask and listen to their employees in order to engage and empower them. Here are four key reasons why asking is more effective than telling:
The brain is engaged by questions.
Asking questions fosters initiative.
Questions produce deeper understandings.
People who are asked questions feel heard and valued.
What Makes a Good Question?
You need to be careful how you ask your employees – otherwise they might feel like they are being interrogated. The following steps will help you ease into a new approach:
Be vigilant.
Publish open-ended inquiries.
Encourage your group.
Read About:
4 Tips to Overcome Challenges of Remote Reach to Doctors and Medical Health Professionals
4 Point Guide for Field Force To Make Pharmaceutical Selling Better
Conclusion
It is vital for managers and leaders to ask good questions in an effort to acquire accurate information and work together. It fosters a culture where employees are at ease talking about problems that have an impact on both their performance and the team's. This then lays the groundwork for improving levels of trust, boosting motivation and creativity, and boosting productivity.
We hope that we covered the required topics about "Good Leadership Is About Asking Good Questions". If you have any suggestions regarding this blog post, do let us know in the comments below.